The Classic Caipirinha

Cocktail recipe by Pete Nevenglosky of Avuá Cachaça & Steve Luttmann of Leblon Cachaça

Yield

Serves 1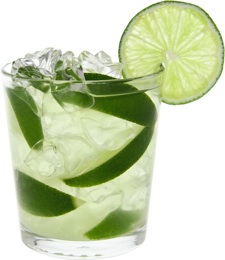 Glass:
Caipirinha / Short Old Fashioned / Rocks Glass
Ice: Crushed Ice

Garnish: Lime Wheel

Ingredients

- 2 oz cachaça (Avuá or Leblon)
- 1/2 lime

- 2 teaspoons Demerara sugar

Directions

1) Trim the top of the lime (where the lime attached to the tree) to remove some of the bitter pith.

2) Cut the lime half length-wise into four wedges and trim the center white pith.

3) Put the wedges in a caipirinha glass (a shorter Old Fashioned glass) and add two teaspoons of Demerara sugar.

4) Muddle the limes and the sugar (see notes below on muddling tips).

5) Add crushed ice to fill the glass.

6) Pour in 2 ounces of cachaça and either stir for 15 seconds (per Steve) or shake (per Pete).

7) Garnish with a lime wheel.

Notes

- Don't expect the sugar to dissolve. Brazilians like the texture of the sugar in their caipirinhas.

- Limes: the quantity of lime depends on the juiciness of the lime being used. Try and find limes with smooth skin and more weight to them.

- Pete's Muddling Tips: "Don't over muddle it. Give it three simple muddles with a big strong, sturdy muddler."

- Steve's Muddling Tips: "Muddle for 15 to 30 seconds to extract most of the lime juice, but don't over do it and extract the bitter elements from the peel.